français / Mi'kmaq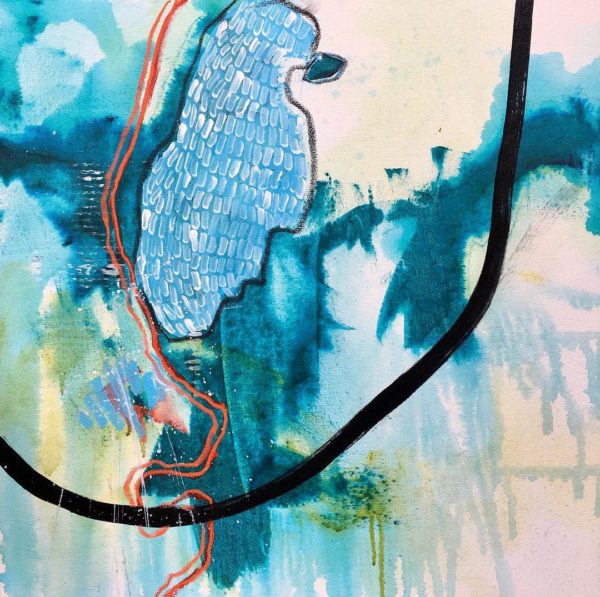 I want to die in Upstate New York
Somewhere in the Adirondacks
Left loosely out in nature
I want to look out at a pastel sunset
Setting over the mountains
In cool sweeping blues and pinks
Rich in evergreen
I want to hover over the Fulton Chain Lakes
I want to live my life like a Jackson Pollock painting
I want to hit the canvas
I want to be bright, dripping with life
I want to run off the sheet and soak/cake the floorboards
I want to clump around the edges
and die in Upstate New York
I want to twist in the vineyards
I want to swirl from post to post – vine to vine – row by row
I want to feel the cool grass on my feet
I want to wear a crown of trees
I want to trace the Hudson River with a giant's hand
I want to sit at the top of Alster Tower on a lonely night
I want to walk the grounds of Heart Island
I want to gaze up at the night clouds merging like praying hands
I want to look up at the stained glass from the floor of Boldt Castle
I want to die in Upstate New York
Preferably in the fall
When the red drips off the foliage and spills into the waters
Shaking outward
I want to be held over them Lakes in a painter's hand
I want to be big for once
I want to be as lonely as an empty hall
A peaceful, affirmed, lonely
I want to be the leaves that now live in an old building
I want to sit in an abandoned dining hall
You could join me and we could be lonely together
We could be music, wind
We could play about the joists
The world spins, do you think it is possible it lays down ?
We are the buds in the Catskills, lover
Our cheeks as red as the
roofs at Mohonk Mountain House
We can be anything in transcendence
I want to die in Upstate New York
I want you to meet me so we can explore
I want to live like a Pollock painting
Bright splashes on the canvas
I want to be lonely
Gracefully lonely
Just lonely
With you lonely
Come whistle through Howe Caverns
Through the stalagmite teeth
Let's be the Thousand Islands
Or sit on the sand beach of Just Enough Room
I'm lonesome to be lonesome with you
I'm lonesome to be lonely with you
For our colors to cross
For our ribbons to tangle
I have always been faithless
But I'll forever be lonesome to be lonely with you
And so the Moon's my angel
I love to dream under her
Is it weird she is my anchor ?
ɹoɥɔuɐ uʍop ǝpᴉsdn ʎW
I sit lonely in the water
I am a castle in the fog
I am fear in a box
You're a wind over the ocean
You're a visiting superstition
You're a trail I follow out
I want to die in Upstate New York
I want our ribbons to tangle
Driving through heaven
A dipped crown in the mountains
Crying under a golden sky
God's too big, gods too big for us
And so the Moon's my angel
I've been running behind her
Catching whatever she throws
I want our colors to cross
I want our ribbons to tangle
I am lonely for the farmland and your singing eyes
I'm an empty concert hall
My heart is a colorful balloon
Floating over a waterfall
All this light inside me
My body's a temple, a shrine to you
All the eyes in the city can't match yours
Singing eyes
The colors of harvest
The new kicks of spring when clouds march like heroes through the valley
We are light in motion
I sketch symbols on the wall
Cool water rhythms and salt
Singing eyes and me
The two birds dodging stones
I am sheets of rain
on your empty plane
A single window
An endless stare
A boundless wilderness
A green flare
Under bow and wreath
There I lay your setting leaf
Empty palace, checkered floors
A spin dive on to the nose
Opening like a rose
Light emitting from closed doors
Where whispers gather, rise, and swirl
Locked like a lover's lips or curls
My heart's allowed to hurt
Tell me I can feel
Put your light on me
See me look at you
See me love you
Singing eyes
I want to dive into a night sky
I want to swim celestial swells
I want to fall under that big hand
With my hand in yours
I want a family album
I want to escape the fears of failing
Dive into a night sky
Thrive like a night star
I don't want to question why I burn in
An Upstate New York night upside down
Hold me in a black sky
Let's be two moon slivers holding hands
The air hits me like a god hand
The air hears me like a good friend
Stars swoop like a swallow guarding its nest
I feel you like poetry spilling out of jazz brain
When you love
You're looking in on a party
You can't hear the words
but you can feel the buzz
I am lonely to be lonely
I want our colors to tangle
You show me the beauty in life
The sky watcher, the leaf peeper, the sun drinker
A role reprised
Singing eyes
I'm just a dinosaur bone of a lover
I want to marry you again
I want to apple pick with our children
Meet me at the peek of autumn
I'll be your jack-o-lantern of poemsters, your glowing booked library
Two moon slivers in an open sky
Raymond Sewell
Published in No 17. Creating Community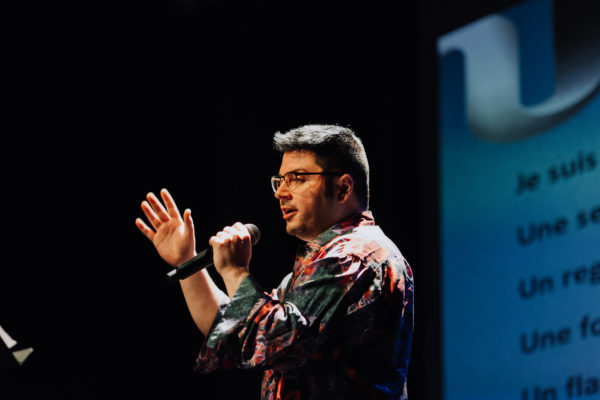 Abonnement à la liste d'envoi
Abonnez-vous gratuitement à la liste d'envoi et recevez nouvelle des parutions, projets et appels à texte de la revue Ancrages.