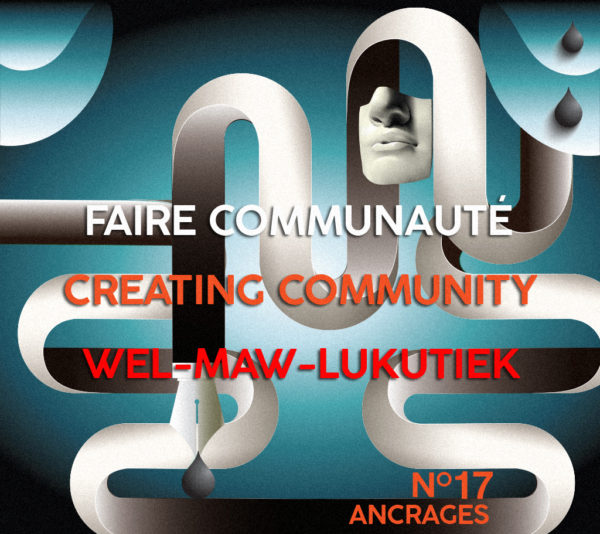 Table of Contents
Sonya Malaborza. Translating Community
Phyllis Grant. Kloqowejk aqq Kuntall, Millay Wtui'kaqnml (Serena Sock)
Elizabeth Blanchard. Kktlui'sitminu (Mona Francis)
Lee Thompson. Mu Nenuamɨk Ji'nm Pekisink Llutaqney Ka'qn (Serena Sock)
Beth Powning. Mawi Muwisultiek Syriansɨk (Serena Sock)
Gerard Collins. Nipuktuk Ta'n Tujiw Wela'kw (Serena Sock)
The authors. Looking Back on the Experience
During the summer of 2017, twelve New Brunswick writers were asked to create new works, with a single keyword to work from : community. From their respective corners of the province, they explored the DNA of their community, thinking about the ecosystem that has seen them evolve or welcomed them, that surrounds them on a daily basis or sketches out the broad outlines of their future.
This exercise led the writers to examine various elements in their surroundings and to describe deeply poetic moments, comedic experiences, dreamscapes, doubts and a whole range of emotions. They drew their inspiration from recent events, from their youth, from heartbreak and human relationships that led to awareness and action. But that was just the start—the adventure had hardly begun.
In November and December of 2017, the team at Ancrages, led by Sonya Malaborza, took these twelve writers on a tour of six venues across the province, where they had the opportunity to share the fruit of these labours with the public and each other. Many of the authors had never met before, and none had read each other's contributions. With their freshly written scripts in hand, they took a leap, risked it all and found themselves crisscrossing the province together by van. Audiences in Fredericton, Edmundston, Saint John, Moncton, Rexton and Bathurst discovered a chorus of multifaceted and multilingual voices that took us on a priceless, necessary and unforgettable journey.
Taking the authors' work from the page to the stage was a significant challenge. How could we possibly avoid the pitfall of building a Tower of Babel and not get lost in the maze of languages ? The team at Ancrages felt it was important to put together a literary event that would be inclusive. To this end, we had each of the texts translated so that they would be available in both of New Brunswick's official languages. During the performances, the translations were projected onstage.
This issue, then, features the collection of works that sprung from the Creating Community experience. The texts published here were commissioned specifically for the project and were shared with audiences across New Brunswick during the tour portion of the project. In addition to the works in French and English, this issue contains a selection of Mi'kmaw translations. For your reading pleasure, we asked each of the authors participating in the project to look back on their experience with the community of artists that was created by our project. Their written testimonials are published here as additional content.
Creating Community is tangible proof that the arts are a bridge to the other, a road that leads to shared places where expression is a sign of sharing and communion. They are a step towards reconciliation.
Heartfelt thanks are addressed to our collegues Raymond Sewell an Lee Thompson who opened the doors to their community of authors, as well as to Philip André Collette who made the tour radiate through care and masterful staging.
This project was made possible thanks to funds dedicated to Canada's 150th anniversary celebrations by the Canada Council for the Arts (New Chapter) and the Government of New Brunswick. We are very grateful for their support.
Jean-Pierre Caissie
for the Editorial Team (David Décarie, Dominic Langlois, Herménégilde Chiasson, Paul Bossé, Monica Bolduc, Joël Boilard)

Special thanks
Charlie Gaffney, Lee Thompson, Raymond Sewell, Centre culturel Aberdeen, Mark Jarman, Thomas Hodd, Imelda Perley, shalan joudry, Mike Parkhill, Jérémie Deneult, Shanna Francis.
Our translators : Monique Arseneault, Janice Bujold-Barton, François Chapron, Herménégilde Chiasson, Éric Dow, Jo-Anne Elder, Mona Francis, Marie-Claude Hébert, Jonathan Kaplansky, Sophie M. Lavoie, Sarah MacNeil, Sonya Malaborza, Christine Melanson and Serena Sock.
The visual artists whose work appears in this issue : Alisa Arsenault, Jessie Babin, Rémi Belliveau, Marjolaine Bourgeois, Pascal Léo Cormier, Christopher Grant, Emma Hassencahl-Perley, Émilie Grace Lavoie, Vicky Lentz, Sylvie Pilotte, Anna Torma, Emily Sanipass, Natalie Sappier and Julie Whitenect.
The Canada Council for the Arts, the province of New Brunswick and the city of Moncton